Behr
Compare Brands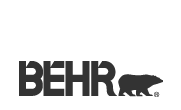 This is a tricky one. Behr make this claim regarding their roof paint:
'...helps brighten roofs and reflect heat' and 'This product is intended to brighten roofs and reflect heat'.
Unfortunately no other information is provided with regard to the reflectance or emissivity of the paint. We have our doubts the paint could truly be referred to as a heat reflective paint, and have contacted Behr for further information.
UPDATE: Behr's response was "We do not have an SRI (Solar Reflective Index) value for our Roof Paint. Obtaining a value would require independent laboratory testing."
In other words, 'this is not a heat reflective paint'.
To explain:
Any paint
(particularly a light coloured one) will reflect light and therefore reflect some heat. However a heat reflective paint (such as the ones
we review
) are designed for extra high reflectivity
as well as
emissivity (meaning they release more heat than normal paints before passing the heat to the substrate - your roof).
Don't let this be another example of a marketing attempt cashing in on genuine environmental interests of consumers without actually providing a quality eco conscious product that truly reflects heat in the best way possible.
Use it as a reminder for consumers to check the
SRI - Solar Reflectance
Index of paints that claim to reflect heat.