NuTech
Compare Brands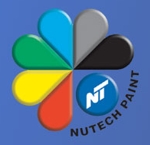 NuTech is an Australian company with distribution offices in Australia, New Zealand, United Kingdom, Malaysia and Philippines. They claim to be Australia's 'oldest and largest specialist roof coating manufacturer with nearly 40 years experience'.
DIY:
No - Flexi-Shield can only be used by licensed applicators as listed on the NuTech website.
They list four licensed applicators in NSW and two in the ACT, or you can contact them to ask about your area.
Solar Reflective Index (SRI):
Flexi-Shield may act as a thermal insulator, but not a solar reflector - the official brochure does not claim it to be a heat reflective paint. The film is 3 to 4 times thicker than conventional roof paint.
Colors:
15 - the majority dark and includes the environmentally evil
black
!
Coverage Calculator:
No, but the coverage rates are listed on the website for you to calculate yourself.
They do not sell online but can be contacted via their website.